I love good humor and ran across--stumbled upon it, you might say
--this fractured fairytale for adults on Smashwords today. I've never heard of this author but will have to come back to explore their body of work after reading this one.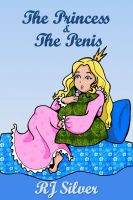 The Princess & the Penis
is a short story (approx 10,575 words) revamping the classic fairytale into adult-style humor (
NOTE:
This book contains content that may not be suitable for young readers 17 and under.)
A beautiful, chaste, and completely naive princess encounters a strange lump in her mattress. The lump soon morphs into a shape familiar to everyone but her, triggering her curiosity and her father's greatest fears. He frantically tries to intervene, but having a large phantom phallus in a curious maiden's bed is never a good combination.
This book is currently priced as
FREE
and, therefore, requires no coupon code.
.