Because I completely forgot to include this fabulous collection in
my primary Freebie Friday post
for this week, I just had to do a dedicated post for this gem.
A Selection of Meats & Cheeses
(approx. 37905 words) is a collection of 12 short stories from Danny Gillan.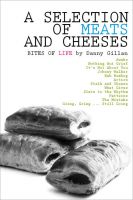 Twelve short stories, some sad, some funny; some serious, some silly; some poignant, some pointless. (
NOTE:
This book contains content that may not be suitable for young readers 17 and under.)
Meet homicidal Estate Agents, happy mendicants, inept stalkers and rubbish action heroes. From crime to comedy and thriller to thought piece, the factor combining these bites of life is that everyone makes decisions, and good people often make bad ones. It's how you deal with the consequences that matters.
This book is currently priced as
FREE
and, therefore, requires no coupon code.
.