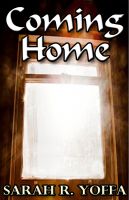 I've been so focused on promoting everyone else's books, I completely forgot to promo my own Jewish Inspirational / Romantic Comedy,
Coming Home (Dicky's Story)
, which is also entered into the
Smashwords Summer/Winter Sale
, and discounted by 75% when you use the coupon code
SSW75
at checkout for a low, low price of only one dollar $1.00
They say when God closes a door, He opens a window, so what happens when it all comes crashing down on top of you?
Dicky's a Godless soul and he likes it that way. In the undergound world of The Colony, Dicky eeks out a living by stealing scraps and cheating the automated system. His lifestyle may not be ethical but even a Thief has morals, so when he sees a kid in trouble, instincts propel him into action. The Kid introduces Dicky to a world he never knew existed—and a woman he only imagined in his wildest dreams.
Leah hasn't got much of a life in The Colony and conformance to the rules has never been her forte—as her family has pointed out every chance they get. Her only escape from the fault-finding has been helping to care for Itzick, the sole surviving son of a prominent elderly couple. Itzick is far more than just the end of a family line. Leah is one of the few who know the Kid's true place in the world and place in the future.
When another cave-in brings it all crashing down and Leah's own brother disowns her in the middle of the chaos, she finally decides she's had enough. Better to die free than live enslaved, but she can't leave without knowing Itzick is safe. The Kid's been taken in by a Thief, so Leah must enter a world she'd only seen from a distance and, to come out again, not lose her heart to a lost soul named Dicky.
---
Here's what people are saying about Dicky's Story:
What a fascinating insight into a religion I have to admit to knowing little about. The genre isn't one I'd usually pick up, but the story kept me entertained the whole way through. I like learning something when I read and Coming Home delivered.
Look forward to more books from Ms Yoffa - if she writes Rom Suspense as deftly as her inspirational fiction then they'll be certain hits.
-Helene Young, author of
Shattered Skies
(Book 2 of the hit Romantic Suspense series in Australia)
This book is an amazing mixture. The author uses, and where necessary translates, Hebrew and Leah and Itzick expose Dicky to a lot of their religious practices. Inevitably I feel that I have learnt something from the book, but without be preached at in the way Dicky and his friends have been.

The romance is very sweet and tender, although there is a lot of sexual tension and some sex scenes. It was definitely steamier than I was expecting for Jewish Inspirational Fiction. [Dicky] grows so much during the book, discovering a completely different way of life.
-Tracy, the "TopCat" at
BookedUp
Overall, I really did enjoy it! It took me forever to finish between everything going on here at home and the beginning being a bit of science fiction. Other than that, it was a beautiful love story and I was so happy with the ending.
- Julie B. Gonzalez (reader from
Smashwords
)