This week, instead of featuring 3 authors I don't know, one book each, I've decided to feature one author I do know and his 3 books. Enter Danny Gillan. First here's a bit of how I met Danny and a showcase of his books, then we'll do a little Q & A with Danny so you can hear, in his own words, how he sees himself as an Indie Author.
I first met Danny in a promo thread in the discussions area of the Amazon UK site where Indie Authors from the US asserted they were "Mostly Harmless." There was more chit-chat than promotion, so it was easy to join the conversation and Danny's name caught my eye immediately--for two reasons.
First there was an obvious connection at just seeing the name in print. You see, a Romantic Suspense author I enjoy had just released a book where she'd featured a recurring character, Danny Gillman, who's shown up in more than a dozen books (where he was an arse) and finally, Suz redeemed him. Yes, SEAL fans I'm talking about NYT Best Seller List author, Suzanne Brockmann and the Izzy Zanella / Danny Gillman feud that was finally resolved in
Breaking the Rules
. Within days of that book's release, whilst still reading the book, I met Danny Gillan for the first time. It was a natural assumption to assume his name
had
to be a typo, missing the "m" but no.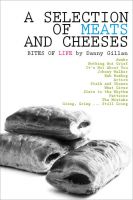 Danny Gillan's name wasn't a typo, and very quickly I stopped trying call him any of Gillman/Gilligan/Fishboy's nicknames. I soon learned that unlike Izzy's nemesis,
this
Danny is hilariously snarky once you get him going--even before that! From the second you allow him to speak, he'll make you laugh. Plus, he has a dog name Jake who smiles a lot. Dogs know these things. The dog wouldn't smile if Danny weren't an okay guy.
What I also discovered about Danny as I continued to chit-chat with him on Facebook and various other places where we crossed paths as Indie Authors was that he's thoughtful as well as funny, and he has a unique, original voice as a writer. I can't describe it. Normal adjectives don't fully embrace all of the different sides of Danny Gillan, the Glaswegian (a word I, as an American, had to Google to discover it means he's from Glasgow, Scotland).
When I started reading the bite-sized stories in
A Selection of Meats & Cheeses
, I started seeing just how many different voices Danny can use. I confess I haven't finished every bite of
Meats
but it's a collection to be savored slowly, not swallowed whole.
Although Amazon US has
Meats
currently priced at 99c and Amazon UK has it at a comparable price in GBP, you can get it
FREE
by
clicking here
to download it from Smashwords.
ETA
: Tracy over at Booked Up actually managed to read
and review
Meats
this week. You can check out her review of the anthology by
clicking here
. Oh and did I mention that Danny's anthology was #1 on Amazon's List of Top Fiction Anthologies? I forgot, you say? Well, that's why God invented "Edited to Add" notes!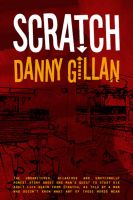 At the time of my first meeting with Danny, he'd just released his second novel,
Scratch
, which has gotten rave reviews.
Click here
to read Tracy's review over at Booked Up.
Scratch is also available from the
Amazon UK Kindle Store
and of course, in
non-Kindle formats (Nook, Kobo, etc.)
from Smashwords.
As you'll read Danny explain below, he recently got the rights back to his first novel,
Will You Love Me Tomorrow
(which seems to go by the acronym WYLMT more often than not--and which I continue to want to write as the song lyric, Will you
still
love me tomorrow).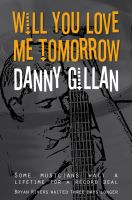 With a lovely new cover by
Jane Dixon-Smith
, the artist who did Danny's other cover artwork, WYLMT was released to both the
Kindle US
and
Kindle UK
stores this past week. Of course, Danny has
non-Kindle formats available
as well, at Smashwords.
Now let's learn a bit more about Danny and how he came to write all of these unusual books.
Q1: You seem to do really well with the humorous fiction. What first made you realize it was a forte of yours?
A1: It was an accident, really. When I began writing my first book, Will You Love Me Tomorrow, I had no idea what I was doing, to be honest. I had a basic plot idea but things like style or voice didn't come into it at that stage – mainly because I didn't know what they were. I started writing the opening chapter - a suicide scene - and noticed as I was writing that jokes kept appearing on the screen. I figured that if I could squeeze a laugh out of a scene like that then maybe I should start trying to find them deliberately.
Q2: Do you find you come up with the jokes first or the story first? What's your process for conceiving and writing a book?
A2: For both my novels it was definitely story first, jokes later. I think it would be a disaster if I tried to build a story around a preconceived set of comic moments or pre-written jokes. Very few readers are willing to read a novel that doesn't have a decent story at its heart, no matter how high the gag rate might be. When I do find space for humour it almost always comes from the characters themselves, and their reactions to what's happening around them. I therefore try to create characters who feel like real human beings. And, luckily, most of the real human beings I know have a pretty decent sense of humour. So, story and characters come first, and hopefully the jokes come out as I write. In fact I'd go so far as to say that none of the 'running gags' in any of my books were planned in advance. They all stemmed from almost accidental actions or dialogue that came out during the writing process and struck me as worth pursuing throughout the rest of the story.
Q3: The cover art from both Scratch and the new release looks similar. Who did the artwork?
A3: Both those covers and that for my short story collection, A Selection of Meats and Cheeses, were designed by
JD (Jane) Smith
. Jane is a hugely talented graphic designer who not only designs fantastic book covers but also edits, publishes and designs
Words With JAM
, the free e-zine for writers to which I contribute. She also happens to be a friend, which means I get 'mate's rates'.
Q4: Did you plan a connection between the two books? They don't sound like books in a series, are they? Or is it just that the cover art connects them?
A4: Although Scratch was published to Kindle first, I actually wrote Will You Love Me Tomorrow a few years earlier. It was traditionally published in 2008, with a different cover to that which Jane designed for the recent re-issue. As you say, the books are not part of a series, though they do both take place in the same 'world'. I created a pub where the characters in WYLMT could meet up and chat, called The Basement. A couple of years later, when I began Scratch I needed a pub (you can tell I'm from Glasgow, can't you?) for the main character to work in, and decided to reuse The Basement. Although this is the only real connection between the two novels, I imagine that The Basement will be making at least a cameo in all future books. Regarding the covers, Jane and I felt that creating a basic style for both, and any subsequent novels, would be a good way to help establish a brand. Actually, Jane felt this and I just agreed because she's a lot smarter than I am.
Q5: Was it easier to write the short stories in Meats & Cheeses or one of your full-length novels? Which length story feels most comfortable for you as a writer?
A5: A Selection of Meats and Cheeses wasn't written as a single project, but, rather, contains what are hopefully the best of the short stories I've written over the last six years or so. I try to write short stories whenever I can as a way to experiment with styles, genres etc. There are several stories in there that are not humorous at all, and would probably be better categorised as crime/thrillers. Equally there is some of my usual stupid nonsense about people making idiots of themselves, and a few that fall somewhere in between. In that respect, I would have to say it felt easier to write as there was never any pressure beyond finishing each individual story.
In saying that, I prefer writing novel-length stories as I find writing the most fun when I can explore the characters' lives, thoughts and feelings in depth. Plus it gives me the time and space to come up with more misery to throw at them.
Q6: Where do you get your ideas for new books?
A6: Ah, every writer's least favourite question! The basic answer is that I hit upon a story premise that I think can sustain a novel. With WYLMT it was – what if a depressed, unsuccessful musician becomes famous after he's committed suicide? Where did that come from? Well, let's just say that I play the guitar but never got to be a rock star.
With Scratch, it was – what if a wage-slave decided to start his adult life again? Go back to having no job, no debt, no home and no relationships and see what happens (I'm not going to even hint at how much of that is based on anything that's happened to me).
Short stories are different, in that I general just play around until I find an opening line I like, then keep writing to see where it ends up. None of my shorts had even a basic premise when I started writing, the stories just emerged as I followed that opening line to its conclusion. Of course, that means I have several dozen opening lines clogging up my hard drive that led nowhere at all.
Q7: What's the next book you have planned going to be about? Do you know yet? Will it be another novel or more short stories?
A7: That has yet to be fully decided. I have three or four ideas I think might turn out to be serviceable novels and I'm currently working up outlines for all of them to see which feels right. Since the release of Scratch, though, I've had several readers get in touch asking for a sequel. If I can think up enough horrible things to throw at the main character, that might just turn out to be next!
---
Learn more about Danny Gillan at his
Amazon Author Page
or
follow @DannyGillan
on twitter, friend
Danny on Facebook
, subscribe to
his blog
or just send him an
old-fashioned email
to tell him what you thought about his books.
What's Next....
Next time at the Webbiegrrl blog will be another Saturday Surprise. Since I haven't yet figured out whether I'm going to be working on getting the cartoon Dicky some hands or getting Raif's head screwed off just a few more turns (not a typo, his head is about to explode, haven't you guessed that yet?), we'll have to see what kinds of surprises Saturday brings.
Next week, I shall return to the regularly scheduled Freebie Friday featuring 3 new Smashword titles you can read for free. If you're an Indie Author and want in on this, please be sure to check back later for the new submissions thread for the August 26th blog.
Shabbat Shalom l'kulam!