Over the course of several Tuesday Tips, I've been adding to my
Twitter Series
, but one thing I've avoided is getting into advising you on the specific tools to use--or how to use them. I've been talking about you, the Tweep behind the tweets, and letting you figure out the tool of choice for your specific personal style (and hardware).
Today I'm going to break from that "hands off" policy and
strongly
endorse Hootsuite as a tool of choice. TweetDeck is a nice tool which I did try out, briefly, but now that it is fully-integrated into Twitter (essentially, the "new Twitter"
is
TweetDeck or
vice a versa
) the versatility factor of TweetDeck's gone way down. Hootsuite, is just a better tool for me, as an Indie Author, especially given that I'm trying to build a readership and following as a public figure. It lets me do what I think an Indie Author should be doing: providing my readers with branded content in an organized (read: scheduled and automated) fashion while still facilitating my ability to engage with readers directly.
Hootsuite Versatility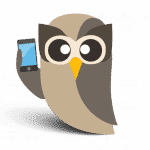 Why do I think Hootsuite is so versatile and the preferred choice? Well, for one thing, I've been using it nearly a month now and have only skimmed the surface of its features while it has massively improved the effectiveness of my Tweeting activities. For another thing, I want something "scalable." That is, something that can grow with me as I become a public figure and deal with a larger scale of the public. Yes, I plan to become a large public figure by this time next year! Galactically large.
So I thought to myself, who better than Chris Brogan (@chrisbrogan), the Social Media Guru and IT geek to Fortune 100 companies, to recommend a tool? And voila, Chris recently switched (from TweetDeck *haha*) to Hootsuite--for both his desktop
and
his Android app of choice. I also have Hootsuite on my Android and I actually like it better on the desktop but it is heads and shoulders better than the Official Android Twitter app (and fully integrates with all the Android OS functions like photo sharing and email) so I can't complain.
Who is Chris Brogan + Why Does it Matter What He Thinks/Uses?
A little background, because I know a lot of you are Indie Authors new not only to Twitter, but to the whole webbietech experience and you probably have no clue who Chris Brogan is. In the webbietech world, Chris is something of a celebrity. Why? Because he uses social media like no one else. He unleashes its power--
at volume
. Everyone wants to be him when it comes to tweeting, blogging and just generally "doing it right" (and he insists he's doing it wrong, but despite breaking all of his own rules/advice, he clearly is doing it totally
right
.) We all want to know how he does it--right or wrong, just tell us how, Chris!
So when Chris Brogan recently
conducted an experiment
(earlier this month) and
UN
followed every last one of his tweeps--a number exceeding 300,000--it was newsworthy. That's people he followed, not the number of "fans" who followed him. He had way more followers than a quarter of a million. He lost a
lot
of followers by unfollowing everyone (down to "following: 0" literally); but he's already got almost 200,000 followers while he's still only following a few hundred himself (so far), so you can probably get the sense of his popularity to the Twitterverse. He's probably
whitelisted
on 200,000 lists (as in, telling your automatic unfollow tools to never
ever
unfollow this guy).
Back when I was in my Webbiegrrl role in IT, I modeled myself after the same ethics model as Chris Brogan (Check out his
4 goals for using Twitter
in the middle of his "
Using Twitter at Volume
" article and compare it to how I discuss my intention for
branding Webbiegrrl as an Indie Author
). I really respect his opinion on webbietech tools of the moment (like I do with Mashable, most of the time, and TechCrunch, at least 50% of the time and Gizmodo--okay, Gizmodo is just for laughs, like the
self-pumping breast implants
).
So I feel validated in recommending Hootsuite because Chris chose it when he decided to do his housecleaning earlier this month and reassess his own Twitter use. Great, you say, but
how do I use it
? Easily. It's free (you can buy a premium account but I find the freebie one to be more than sufficient for my needs so far) and you don't even have to download anything to your computer. It's got a web site interface that works in any browser.
1. Get an account.
Go to the
Hootsuite
Web Site and register, using the same email address you used to set up your Facebook account. (I'll explain why this is important later, in step 3). You'll need to download the app for your phone if you choose to go that route--use the Android Marketplace or AppleStore to find the app by searching for "hootsuite."
I
strongly
advise following the below setup via the web site first and then, after you've got it all set up the way you want it, you can just "synch" your phone app and import all the hard work you did in your web browser with one "click." The phone app settings and setup aren't as easy to work with and some of the words/names are different than on the web dashboard so you might find the menus "don't have" something when they do, but they call it something else. It's very confusing and about the dumbest GUI design not coordinating the two platforms better, but it's easy to work around once you know this is an issue.
2. Setup your personal account preferences
.
Before you start setting up streams and such, I advise you setup your preferences. On the left of the screen, choose "Settings" and from that popout menu, choose "Preferences." Choose a theme if you like, fill in your "Account" information if you want (I left half of it blank for privacy purposes) and if you want to use OpenID or Google to authenticate your account from now on, go to the "Authentication" tab of the "Account" and fill it in.
NOTE: Under "Preferences" on the "URL shorteners" tab, if you're paying for Hootsuite, you can specify a
vanity URL
. Once I have sufficient funds coming in to throw money away on eToys like this again, I'll definitely set this up. For now, it's hardly worth it. The (ow.ly) links are fine. The vanity URLs
are tracked through the exact same (ow.ly) stats
but it's a mask for appearances--which is important for branding an Indie Author.
If you can afford to buy the premium version of Hootsuite, I'd advise it just for this one feature. Choose the vanity URL carefully, though. Don't make it a long name or a hard to remember one. Since I've been "stealing" Mike Hick's (@KreelanWarrior's) ideas lately, I'll use him as an example. If I were him setting up a vanity URL, I'd make it "Kreelan.ly" because that'll help re-enforce his Kreelan books series' name in the minds of anyone anywhere who sees his links.
3. Setting up your Social Network accounts
.
Either use the "Settings | Social Networks" menu (since you're already there) or go back to the left-hand menu and choose "Settings | Social Networks" that way (that's your direct access for later, when you want to change or add your choices).
You can use up to 5 accounts in Hootsuite with the free version. With the pay version, you can add more but most Indie Authors won't need more than 5 anyway. Personally, I have 2 pen names so I've got 2 Twitter accounts set up and 2 Facebook Pages as well as my personal profile on Facebook. I'll probably delete the personal FB profile and instead, add in
my LinkedIn account
(which I've had forever and never use but should probably start tracking somehow).
In order to add Facebook Pages you have to log in with your Facebook personal profile (duh) but the reason you needed to use the same email address is that Hootsuite will authenticate your Facebook credentials and if your email address with Hootsuite is not authorized to access that Facebook account, Facebook will refuse the connection--even though Hootsuite has you manually type in/log into your Facebook account.
Personally, I have 9 inboxes and initially used the same one for Hootsuite that I use for Twitter. That's not the same as the one I used to set up my Facebook account and it took me the longest time figure out that
that
was the problem with why Hootsuite could not connect to my FB accounts! Once I switched my address in Hootsuite (not an easy thing to do after the fact), and after I resynched all of my streams (wiping out all of my history in the phone app, by the way), everything has been smooth sailing. Just in case you decide to make one of your 5 free accounts be a Facebook profile or Page, be sure to use the same email address up front.
4. Setting up your Streams.
Choose to "+Add a Social Network" and then select from the half dozen social media choices (Twitter, Facebook, LinkedIn, etc.) and be sure you've ticked the box to "Automatically create a new tab for this profile." You can untick the "Follow Hootsuite" if you like, but I suggest following them so you get notified of updates or new feature surveys they offer from time to time (really
in
frequent).
Once the Social Network sites are selected and setup, and assuming you had Hootsuite automatically create a tab for each profile, you'll have some streams you can go customize. This is the real power of Hootsuite's interface to Twitter, the multiple stream views and ease with which you can change it at any given moment without having to reset everything. Because I think this is an important, but potentially-complex discussion, I'm going to leave "customizing your streams" for a post of its own later in this series. For right now, I'll end with getting you sending out your first tweet, then leave you to play on your own for a week.
(click image to enlarge)
5. Hooting Your First Tweet
At the top, left of the main screen (pictured above with my webbiegrrl streams displayed), you'll see there's a little blank box. Greyed out text says "Compose a message" because that's where you type your tweet's 140 characters.
Just to the right of it is a dropdown box where you choose which of the (up to 5) social network accounts you set up you want to send this tweet. You can choose one or more of your accounts. Sometimes I'll tweet a good morning to both of my Twitter accounts at once, or I might select both the @webbiegrrl Twitter account and Webbiegrrl Writer FB Page. Rarely, I might blast both Twitterstreams, both FB Pages and my personal profile by selecting all 5 icons from the pulldown box -- and typing just one message which Hootsuite sends to all 5 accounts at the same instant. One click. Done.
What's Next...
I'm tempted to get started right away on the next installment of Hootsuite articles in my Twitter Series but I have a bunchaton of new followers I need to investigate (and probably unfollow 80% of them if the spammer to real person ratio holds true to form). If I don't post another Tuesday Tip later today, play around with Hootsuite on your own, rummage back through my
Twitter Series
for more tips (like the
@Toonopolis Shares his Secrets
article where Jeremy and I both mentioned a bit of Hootsuite automation).
Don't forget, you can subscribe to Webbiegrrl's Writings
on KindleBlogs
to get it delivered to your directly to your Kindle via
WhisperNet
. I don't get to set the price--Amazon controls that--so it's not free, but the cost was a neglible 99c a month last time I checked. That breaks down to 6c or less per post (as I post a minimum of 4 osts a week, sometimes, more).
You can also choose a free option:
subscribe via Networked Blogs
to get it added to your Facebook profile's newsfeed or just join the site via Google to see new posts on your Google Homepage. I'm tweeting links to the blog
@webbiegrrl
and posting them to the
Webbiegrrl Facebook Fan Page
(where everyone is welcome to stop by and say hello--yes, on the Wall! I know! I'm living dangerously and inviting spam, aren't I? Not so much. Facebook will filter you out if you spam links to my Wall but do say hello anytime!)
See you Friday with 3 new free reads from 3 new Indie Authors. Thanks for stopping by!