I only got one entry for this weekend's feature, not sure why, so in addition to Dawn Gray's new release, I've gathered together some scary stories I think you'll enjoy this weekend. The weather here on the Atlantic Coast is going to drop sharply between now and Halloween (Monday night) but these stories will get the chills going up and down your spine even if you keep the heat turned up.
Speaking of heat, we start out with a steamy paranormal romance:
Vampire Legacy: The New Queen Rises
(approx. 67229 words) by Dawn Gray.
Julian Deveraux has seen many prophecies come to pass in his lifetime, but never one so close to home or to his heart. As destined events begin to unfold, he must choose whether to interfere or lose the woman who has turned his world upside down forever.
Brought together by an evil enemy and pushed apart by duty, Ashley must face the man who destroyed her life, while desperately trying not to lose her heart, torn between two mysterious brothers. Can she withstand temptation or will she give in to the torrid triangle of emotions that may cost her the ultimate price?
To get this book free, use coupon code
TZ38Y
at checkout.
Circus of the Dead
(approx. 10734 words) by Seth Blackburn is a novella you can read in one sitting--if you dare. And you thought clowns were scary before!
For young Gabriel, the walking dead are merely the memories that haunt the eyes of those old enough and lucky enough to have survived. He is more concerned with his hard life in America's desert, where his chores keep him busy and the husks of books stashed beneath the cellar of the library are his only freedom. Until the circus comes to town.
This book is currently priced as FREE so no coupon code is required.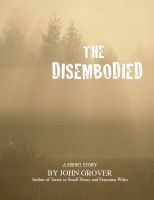 Besides vampires and the walking undead, Halloween celebrates ghosts and goblins and ghouls .
Haunting Memories: Four Short Works
(approx. 7259 words) by Joshua Scribner gives up the ghosts in four bite-sized pieces (caution, new author ahead).
Then we have a ghoulish mystery from a slightly more seasoned John Grover:
The Disembodied
(approx. 4952 words) will tempt you into the forest...where you know no Good can lie waiting for you!
Both of these spooky tales are priced at FREE, so no coupon code is required.
Even if you like Stephanie Meyer's reinterpretation of the vampire mythology, check out Bram Stoker's original
Dracula
. This Transylvanian Count is not shiny, not sweet and
not
refraining from sucking your blood! He's vicious and bloodthirsty and in my mind,
defines
what a vampire really is!
The War of the Worlds
is the most-enduring Wells story of all time--except maybe
The Time Machine
.
Granted, when Orson Wells did a Halloween spoof by reading this book on the radio in his gravelly voice (before the days of television or special effects), it was probably more horrifying because listeners honestly had no idea if it was real or just a "show" but this story is a classic a hundred years later for good reason. It's a story of simple humanity triumphing over "Evil."
Brave New World
(click that link for all formats available from the Archive.org "banned books" list) putting the evil of eugenics to the public consciousness, H. G. Wells was writing about the horrors of genetic engineering--and not just for humans anymore!
On
The Island of Dr. Moreau
, see what happens when a mad scientist splices humans and animals together--and not just to make werewolves! This is the original story where the idea of taking the fiercest predatory beasts and combining them with human intellect was first conceived! Never mind X Men. Wells did it better because he kept it so close to reality you can almost believe it's possible!
I don't believe in most of these paranormal ideas nor do I normally read these kinds of stories, but the classics listed here are more than merely "scary stories." They're studies of humanity and our desire to be more tomorrow than we are today. They also get your heart racing in the process! Enjoy!
What's Next....
Tomorrow evening, I'll definitely be updating the Dicky cartooning effort. I have a lot of editing to do on the SciFi thriller (Marjorie really needs to start doing her own work, doesn't she? LOL) but should have some cartooning done in between, as a means of resting my eyes.