Welcome to the Veterans Day Special Edition of Webbiegrrl's Freebie Friday feature. I wanted to showcase veterans stories this week and have a few "war stories" to recommend.
The first one is by an award-winning author who's been writing about war for over 25 years. Lois McMaster Bujold has written 17 books in a military science fiction (milSF or space opera) series called the "
Vorkosigan Saga
." She started with the premise of a planet colonized by humans, then cut off from the rest of humanity, left to fend for themselves in a frontier-like manner. She gave this planet, Barrayar, a class system that sets the nobility into a warrior caste (called "Vor") who are responsible not only for running the government, but also for defending the planet against various and sundry aliens.
The Vor (indicated by the syllable before their family name) have evolved into the biggest, strongest, most able-bodied of men (and most delicate of women), so the first thing Lois does to the Vor's most-decorated Hero, Aral Vorkosigan, and his long line of Vorkosigan Admirals who've single-handedly turned the tides of more than one war, is give Aral a crippled son. Overcoming this barrier to glory is the warrior's son, Miles's, lifetime goal--and ultimately, Miles's greatest achievement is that he stops overcoming his limitations and instead, embraces them. After all, "Miles" does mean soldier and he does "soldier on" for 17 or 18 stories spanning nearly 40 years (as of the last book in the series--so far).
The Warrior's Apprentice
is an early work--both the introduction of Miles to the series and only the second book Lois ever wrote. Lois proves she already had it down pat by the time she wrote this book. It's designed to be a comedy of errors, a parody of the parody (The Sorcerer's Apprentice) so a lot of the plot might be regarded as AuthorConvenient. I wasn't bothered by how "conveniently" things worked out for Miles, as I saw a lot of the "convenience" to be plain and simple human nature at work and Miles just exploited opportunities. Sometimes, some people just
do
have all the luck. And sometimes, a plot about
people
doesn't have to be complex.
Lois's stories are definitely about
people
not things or places or events--but the events spin out of control in a side-splitting LOL way that definitely does tribute to the 19th century Goethe tale (though my favorite version remains Disney's segment in the 1962 animation, Fantasia). The places are so richly textured and vibrantly described that sometimes I feel as though the universe Lois created in this series is a character unto itself. And when it comes to "things" Lois has some of the best gadgets subtly placed into her stories without any hooplah.
The Vorkosigan Saga is, above all else, a soldier's story. The harsh realities of war are driven home--repeatedly--in the opening duology,
Cordelia's Honor
(includes Shards of Honor and Barrayar), where Miles suffers his
in utero
cellular damage) and Miles, being the right little soldier that he is despite flunking out of the Academy, will carry the weight of many wars on his bent little back for the rest of his life.
The Warrior's Apprentice
sets the stage and cuts out the heart of the star soldier's courage, leaving him with survivor's guilt and blood on his hands for the remainder of his life (and the series). Like some great Shakespearian Hero, Miles will never get the blood shed in The Warrior's Apprentice to ever leave his hands. Twenty years later, though I can tell you he's started to live with the stain.
The Warrior's Apprentice
is available FREE through the
Baen Free Library
. Download it by
clicking HERE
(then tell all your friends).
There are other war stories and series available free in the
Baen Free Library
(such as
Lt. Leary Commanding
by David Drake or the
Honor Harrington series
by David Weber not to mention the prolific
assortment by John Ringo
) so if you like milSF, be sure to browse around.
All books in the
Baen Free Library
are available through the Webscriptions service. Although there is a price listed, you
do not have to pay
for these books. You can just download the file (or email it to your Kindle device). The price is a suggested donation to keep the
Baen Free Library
running.
The second book I want to offer today is one I have not read but have heard a lot about--from its author, anyway. Michael Hicks has broken into the SciFi genre with his series, In Her Name, and he's made the first book of the series,
Empire
, free. I cannot personally speak to this book but since it's gotten a bazillion 5-star reviews on Amazon, I suspect it's a pretty good read. Its description reminds me of a cross between Haldeman's Forever War and some of David Weber's alien invasion war stories (see the
Baen Free Library
).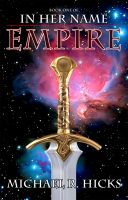 In the first book of an epic futuristic fantasy trilogy, this is the coming-of-age story of Reza Gard, a young boy of the Human Confederation who is swept up in the century-long war with the alien Kreelan Empire. Nightmarish female warriors with blue skin, fangs, and razor sharp talons, the Kreelans have technology that is millennia beyond that of the Confederation, yet they seek out close combat with sword and claw, fighting and dying to honor their god-like Empress. Captured and enslaved, Reza must live like his enemies in a grand experiment to see if humans have souls, and if one may be the key to unlocking an ages old curse upon the Kreelan race. Enduring the brutal conditions of Kreelan life, Reza and a young warrior named Esah-Zhurah find themselves bound together by fate and a prophecy foretold millennia before they were born.
This book is priced at FREE so no coupon is required.
Technically, I've already mentioned way more than 3 free reads but there is one more book I'd like to recommend to you today. It's a slightly different milfic by John Ringo titled
Unto the Breach
. You can read the first few chapters free online but the book, itself, is not free.
It is, however, possibly the best book John has ever written. The series (Paladin of Shadows, but we all just call it the "Ghost" or "Kildar" series) is not a scifi series but a sort of alternate reality. The series was written to be a sort of wish fulfillment for the author--not to be taken seriously. Then he created these make-believe people, the Keldara, in Book 2 and somehow the series took off. They are a warrior people and since John's a big fan of Lois's Vor Series, it's no surprise if you see similarities.
I
reviewed Unto the Breach here
, for the 4th of July weekend (with some spoilers mentioned). If you really want to get a copy of this book for free--and really love scifi or milSF--you'll have to do a little bit of work but it can be done.
First, follow me on Twitter (
@webbiegrrl
) then ask me for a link (@mention me). I'll follow you back and then via DM I'll send you to the location of the Holy Grail (or at least somewhere you can find a bunchaton of great books by Ringo and other Baen authors). It's totally legal (and okay with the Baen Books folks) but I cannot in good conscience advertise the link here since it's only shared by word of mouth....and we like it that way. Keeps the server running quickly.
BONUS READ
Even though you've already got way more than 3 books here, they are all somewhat serious soldier stories--which was the point, given it's Veterans Day--but there's one book I
featured over Labor Day weekend
that has risen to #31 on
the Amazon Kindle Store's Top 100 Free Books
list (Edited to say it's risen #30 just in the last hour!! Go, Ruby!!) I just
had
to give a shoutout to
Ruby Barnes
for this great achievement. Plus
Peril
is a bit of comic relief you might appreciate right about now (and the bookending of comic relief for this blog post is a symmetry I cannot resist!)
Peril
is priced at FREE on Smashwords so no coupon code is required. I'm sure it's still FREE on the American side of the
Amazon Kindle Store
but since I'm in the US, I cannot check the price status for the
UK Kindle Store
. If it's not free in the
UK Kindle Store
, European and other non-American readers can just stop by Smashwords to get your free copy.
What's Next....
Tomorrow I'll have more SciFi edits done but I'm not sure if it's a good idea to snippet. Some serious stuff is going on in
Conditioned Response
right now and giving away all those spoilers might ruin someone's fun. I'll have chapters up for commenting until about Thanksgiving weekend so tomorrow, if you'd like to get another free read, visit the Authonomy site to read
Conditioned Response
through my current state of repair. If my editing keeps progressing as nicely as it has been this past week or two, I should be able to get the book finished by mid-December but then it'll be a serious scramble to get it formatted and released by December 31st! As Emperor Gregor (in the Vorkosigan series) always says,
Let's see what happens.