Today's blog is a dedicated feature for Indie Author,
Regan Black
, who writes Romantic Suspense with paranormal elements as well as YA Fantasy genre books. Check out all of Regan's books
here
and read
my review
of
Tracking Shadows
just published
here
. Before we do anything else, however, the winners of Regan's
giveaway
are as follows:
Grand Prize:
Julie Day (wins the
set
of 5 books -- that is, the first 3 books in the series plus 2 short stories)
1st Runner up:
Maria (wins a copy of
Tracking Shadows
)
2nd Runner up:
Sheila Deeth (wins a copy of
Tracking Shadows
)
Congratulations to all three winners! You should have already gotten a short message from me telling you that Regan will be contacting you shortly to arrange delivery of your books. For those of you who celebrate it :) have a great Thanksgiving weekend! Okay, onward we go. C
lick through

the jump break
to learn more about Regan.
Author Interview
I just read
Tracking Shadows
(Book 4 in the SHADOWS OF JUSTICE series) and had no idea it was a series book. In fact, I thought this was the first book of a new series until I check the description again part way through. Because I can see how Regan built up this world, and yet I still had so many questions about the world she built, I focused my interview questions on the world-building aspects of the series.
Webbiegrrl (WG): You've written 5 books and a couple of short stories in this series. Do you think you have more to write in the world of 2096?
Regan Black (RB):
Definitely! This whole universe still intrigues me and is consistently a surprise, which makes the process more fun for me. When I wrote
Tracking Shadows
(Book 4), I realized Mira (the mysterious healer who has a cameo in all of the previous Shadows of Justice novels) needed her own story.
While I was working on her book,
Shadows to Light
(Book 5), I discovered another supporting character who is clamoring for me to tell her tale. That will be the next novel in the series.
WG: Which characters, if any, still have a story you want to tell in the future world of 2096? Will you eventually tell their story?
RB: Well, Julia from
Shadows to Light
is next up on the 2096 agenda, but there is an original novella in the
Mammoth Book of Futuristic Romance
(January 2013) that introduces a whole new set of problems involving the children of soldiers who were exploited by Dr. Kristoff (the 2096 equivalent of today's Surgeon General). That novella stands alone, but when my beta readers and critique partners went through it, they urged me to explore the fate of these kids.
WG: Where did you first get the ideas for the future world depicted in your 2096 books? Was it the event that triggered the world or the people in it that caught your attention first?
RB: This entire series launched from one character, Jaden Michaels, and she was propelled into 2096 by a contemporary short story I wrote for a contest. The short featured one of Jaden's earlier lives and her short-lived victory over the predatory demon.
Though never published, the story won the contest and became the framework for
Justice Incarnate
(Book 1). I tried to write the story as a contemporary novel, but I felt like was cheating on Chicago and doing a disservice to the men and women in the military. Pushing the story out to 2096 set my imagination free and with the 'creative license' of writing in the future, things really came together for the characters and storylines.
WG: What is it that happened to cause the USA to ban certain things as "contraband"? Is this explained in one of the other books of the series?
RB: Well, the illegal coffee thing started as a joke between my critique partners as I was writing
Justice Incarnate
(Book 1). I was drinking more coffee than water to make my deadline, but it was such an amazing rush. (The story process, not just the caffeine). And I knew if caffeine was ever regulated, people like me would create a viable black market – and
voila
, Slick Micky, the smuggler, was born.
The rest of the 2096 contraband issues sprouted from the intense anti-carb 'diet' of that time. People would practically shun you if you dared to eat bread in public. I thought if that's where we were in 2004, it wouldn't be too long before we had actual regulations restricting our favorite foods and ingredients. In the books, these extreme regulations are blamed on an overzealous government appointee, who is the equivalent of the Surgeon General.
WG: Why is it only the USA that has banned these things? Why not anywhere else in the world?
RB: I never looked at it like that, but it probably feels that way because of my tunnel vision when it comes to keeping the 2096 world centered on Chicago.
(Editorial note: I am an avid Science Fiction reader and, as such, pay meticulous attention to the world-building of any story I read to be sure it makes sense and follows the physical laws of the universe. Deviating requires me to suspend my disbelief, so I noticed immediately that the limits of definition here stopped at the borders of the USA. I kept wanting to know what happened in other countries and to other cultures on Planet Earth during the same time period--especially, given as the USA is such a strong influence on socio-cultural choices today)
Aside from that, I believe in personal accountability when it comes to the choices we make. Showing the 2096 USA under such extreme restrictions that citizens allowed the government to impose, might be interpreted as a snarky commentary on what happens when people don't exercise their common sense, though it wasn't done on purpose.
WG: Will you ever consider writing a story set in 2096 outside the USA showing what the rest of the future world thinks of us and our "contraband bans"?
RB:That certainly has potential! I hadn't thought about it until now, but research is a wonderful excuse for a lengthy 'vacation' in another part of the world. ;)
WG: How did you go from writing paranormal romantic suspense (the 2096 series) to children's stories?
RB: When my husband deployed while I was writing Veil of Justice (book 3) the military angles and the 2096 world itself just got too dark. I was writing well, but I was exhausted at the end of the day – and not in a good way.
I needed something less intense to feed my creativity and the Hobbitville gardens filled that void. Those stories were initially geared to be a serial project for my publisher that would lead to a full length book, but things fizzled on that front for a variety of reasons and the Hobbitville adventures got pushed to the bottom of my to-do list.
Eventually I hope to release novels with those characters, but so far, I'm not completely happy with the first manuscript.
WG: Do you want to write in any other genres? Which one(s) do you think you'll try next?
RB: One of the other projects I worked on during that deployment was a cozy mystery. I love the foundation of the story and the first draft is complete, but I'm not sure how readers would take to a story from me without the paranormal angle. So it, too, is sitting in the 'maybe someday' file.
(
Editorial Note to Regan: This is precisely why G*d created Pen Names! Please read my marketing series on "Line Extension" and additional articles in my branding series on how, why and when to use pen names to your advantage for precisely this activity--trying out new genres to "test market" yourself there. You are exactly correct that using one name for multiple genres is not a good thing--hence my confusion as to why a Paranormal Romantic Suspense writer was also publishing children's fantasy books.
)
WG: What one thing do you love most about writing?
RB: The surprises, hands down. When I'm working on a scene and a character says or does something unexpected, or uses some gadget like the stealth suit Slick Micky uses in
Tracking Shadows
(Book 4), it thrills me. Writing in 2096 gives me endless opportunities for moments like that, which is another reason I know I'm not yet done with that world.
WG: What one thing do you wish you did NOT have to do as a writer?
RB: Plotting. I enjoy the discovery as I'm writing and while I've learned to trust my process, some amount of plotting is necessary and helps with the continuity of a series.
Readers probably expect me to say 'editing' but that's not so bad for me. Getting comments back and seeing what I left off the page helps me avoid the same mistake in the next draft. My goal is always to make the next book better than the last one.
(
Editorial note to readers: Regan's plotting skills are fantastic so she's obviously quite good at editing and clearly doesn't mind doing it.
)
WG: Anything else you'd like to add?
RB: I'll just add a big THANK YOU to you and your readers for this terrific interview opportunity and giveaway event. It's a joy for me to chat about my books, the series, and the characters who are so special to me.
You're welcome, Regan! It was a pleasure having you here. Thanks for helping to create a fantastic giveaway, too!
---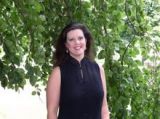 Regan Black is the award-winning author of action-packed paranormal romance and urban fantasy novels featuring kick-butt, alpha female heroines. In addition to the Shadows of Justice series, several short stories, and blogs, she's also authored the non-fiction Adopt A Greyhound Guide and Goal Setting for Writers, a book based on her popular online workshop.
Contact Regan:
Twitter: @ReganBlack
Web site:
http://www.reganblack.com
/
Facebook:
https://www.facebook.com/ReganBlack.fans
Email:
black.regan@gmail.com
Buy Regan's books at the following eTailers:
(click an icon for a direct link to her books at that eTailer)
---
If you're an Indie Author and would like to be interviewed, have your book reviewed and/or have me do a Giveaway for
your
books, please visit my
Author Features Page
to learn how to sign up! I'm filling my calendar but seem to be getting through the review queue faster than anticipated!
What's Next....
Next week's Tuesday Tip will be delayed a day (until 11/28) so I can bring you my entry in the "Next Big Thing" blog hop chain on "Writer Wednesday" (Twitter hash #WW, which also stands for Worth Watching but who's counting?)
Here's to a Happy Thanksgiving to all my American readers!
-sry
@webbiegrrl