It may not be Tuesday but I have too many tips to jam-pack them all into one post this week, so I'm posting half of the discussion half a day early. I know you'll all hate me (not). Some of this stuff is time-sensitive and it's all inter-connected in my mind, so soak it all in overnight and come back tomorrow for the "real" Tuesday Tip. Here are the highlights of what's beyond the jump-break today:

(1) Read an eBook Week
, the annual event first started by
Rita Y. Toews
in 2004 to promote public awareness of Digital Publishing and of course, to promote literacy around the world began on Sunday March 3d and runs through Sat March 9th. I've got 4 books entered under my 3 pen names; how's about you?
(2) Fan Patronage of the Arts as promoted by singer/songwriter/performance artist, Amanda Palmer and her "
Art of Asking
" speech to a TED (Technology, Entertainment and Design) audience. Her move was considered radical--still is--but it's an old idea. My #1 favorite model was described in March, 2008 by Kevin Kelly in his
1000 True Fans
model. Even his naming of this concept wasn't the original idea but his supporting articles (linked at the end of the
1000 True Fans
post) are well-worth reading!
Click through the jump break to read more about each topic.
1) Read an eBook Week (#ebookweek)
I look forward to
Read an eBook Week
each year. It doesn't matter what titles I have out or am working on, it's an exciting time of year for eBook lovers--readers and authors alike. It's not just that there are a bazillion free eBooks out there; it's that the entire world is celebrating reading and getting online to do it. Check out the Twitter hashes for the event. The official one is #ebookweek or #REBW but this year, Smashwords and others have been using #RAEW. Checking any of those searches on Twitter will help readers find books or if you're an author, that's a great way to tweet about your own promos for the weekly celebration. Actually the celebration goes on all month, if you want to be technical about it.
If you have your book on your web site or blog (that is, readers can download a file directly) and you're making it free for this week, (a) yay, you! and (b) contact Rita Toews to request she add your book title and web site link to
her list here
. You can email her at
r.toews
at
shaw.ca
(that's a Canadian address) and you should put "Read an E-Book Week" (no quotes) into the subject line for her filters.
Then be sure to visit
this page
to pick up a badge or banner to display on your site linking back to her and supporting the entire event. You can get more ideas from Rita on her
promote REBW page
.
Don't forget, even if you don't have your book on your web site or blog (I don't!) but you have your book published via Smashwords, you can enroll your titles in the site-wide
Smashwords Read an Ebook Week catalog
- this is fed out through app stores to Aldiko and Stanza, too! Enroll your books now using the
RAEW enrollment link
on the Smashwords home page. I have mine enrolled and yeah, I have to do a little shameless shelf-promoting:
Get my Jewish Inspirational / Romantic Comedy,
Coming Home (Dicky's Story)
for 75% off (or only $1.50 after you apply the coupon code
REW75
at checkout).
Get my marketing handbook,
The 22 Immutable Laws of Marketing (for Indie Authors)
FREE
by using coupon code
RW100
at checkout.
You can try my--I mean, "Friday's"--SciFi books in
The Phoenician Series
, too.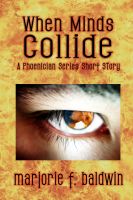 I suggest you start with
When Minds Collide
which is
FREE
when you use code
RW100
at checkout.
Get the long novel,
Conditioned Response
for 50% off by using code
REW50
at checkout.
In case you hadn't already heard, I'm working on the new book which will fall in between these two on the series timeline. It's coming out
great
! I'm about 75% done so it shouldn't be long now--all depends on how quickly I can find a day job to pay the damned bills so I can focus on writing. *grrrrr* This battle to
fund
my writing habit just never ends! More on that below, though.
Last thing to note for
Read an eBook Week
. A great idea from Indie Author and semi-professional Book Reviewer,
Sadie S. Forsythe
(emphasis and notes added by me)
See something you've read and reviewed elsewhere? (e.g. posted a review on Goodreads, where it's free to post?) Why not grab a Smashwords copy while it's free so you can post a review there? (Smashwords only allows paying customers to post reviews but with a coupon code to get it for free, you are a paying customer!) The author will love you forever... (too true, too true!)
If you'd like to be linked on Sadie's blog, she's been adding to her list, so just leave your deets in
her comment thread here
. A tweet @SadieSForsythe or link back would be a nice way to say thank you to her for the linkage.
2) The Art of Asking
Amanda Palmer--or as she's more properly known, AFP (which
does
actually stand for Amanda
Fucking
Palmer) gave an amazing presentation to the TED Audience last month on the subject of
asking
fans to support you--financially. That is, giving them your products
free
and
trusting
that they will want to pay you for your art.
She nailed it (for me, anyway) when she noted that the thing holding most of us back is fear. Fear of reprisal from our colleagues. Fear of failure to receive sufficient support from our fans. Fear of failure, period. Maybe it's fear of rejection or lack of acceptance, which aren't actually the same thing. It's definitely fear standing firmly between most of us and the full-on commitment to just make everything we produce free free free. Watch her presentation in the video below (it's not all that long and it will move you, I think) and then think about it in terms of your books.
Amazon pushes KDP Select by dangling in front of you a carrot of the power to make your books free for 5 days in your 90-day enrollment period. They claim they'll pay you $2 for every time your "free" book is borrowed by one of their Amazon Prime customers, but how much does anyone really make? I've heard of some little hiccups in sales but it's temporary. In limited form. The authors I know who've made anything out of KDP Select have done it with one book free and the rest for-pay. Has anyone made
everything
free?
AFP leveraged her fanbase by exploiting the existing system at Kickstarter. Has anyone here ever tried to raise funds via
Kickstarter
? I have. Leastways, I've looked into it. For us Indie Authors it's not easy to work around the restrictions. The only way I saw to do it was to mealy-mouth around the rules or flat-out lie. My integrity wouldn't allow me to do either one. I have to sleep at night, you know?
Kickstarter
is incredibly clear about prohibiting anyone from raising "life support" funds just to focus on your art. (see
guidelines paragraph #3
) You must have a tangible product with measurable progress and a finite delivery date at the end when your project can be deemed "completed" or "incomplete." Publishing a book on a specific date, forex, would work, but you'd have to have specific costs that you could attribute to the publication of the book--not your life while you're scrambling to publish the book. Of course, I did write a whole chapter on how to calculate these costs (see
Ch 22 of my marketing handbook
, which is
free
right now).
You also really do need to have a video presentation if you want to raise money. The most-successful pitches are done as videos--and I do not mean book trailers, but video presentations. That's another block for me. I'm not willing to go on video with my friends and lovers, let alone with strangers (O_o) So for me, Kickstarter has been a non-starter. Until now. AFP has gotten me thinking about it again. There's got to be a way around these obstacles, right?
All I want to do is write. I was designed for this. I want this. I can do this and do it well. So how to get my 1000 True Fans -- or however many I have at this point, maybe only 100 would be my guess -- to donate to my cause? According to AFP all I have to do is ask. I think musicians and street performers have a better situation when it comes to finding a way to face their fans...well, face to face. Authors don't normally go on tour, physically. Especially not Indie Authors in a Digital Publishing industry. We do blog tours--virtually, not physically.
We don't get a chance for that magical eye contact Amanda's talking about. I know what she means. It's a pretty powerful moment when you have one. I've had a few of those in my life--few enough to count on one hand and possibly have a finger left over. None of them has been related to my writing, though.
Then I just so happened upon a golden nugget--timing, I guess. Seth Godin, the social media guru, has a
Kickstarter project here
and said:
"Please help me show my publisher, the bookstores and anyone with a book worth writing that it's possible to start a project with a show of support on Kickstarter."
Hm, was he talking to me? This blog discussion? Almost seems like it, doesn't it? Godin's Kickstarter project
Why Make Art?
was over-funded in its 29 days of life (no big surprise there). Godin made a great point in his pitch -- he's a great communicator. It always amazes me what he gets across in 140 characters. In his Kickstarter pitch, he said:
"This project on Kickstarter is my way to organize the tribe, to send a signal to risk-averse publishers and booksellers [...] loud and clear that this is a book that's going to get talked about."
In other words, he's creating advance publicity, hype and buzz prior to publication--with no risk involved because he won't produce the book unless or until the project is fully-funded. This directly relates to the last several weeks' worth of Monday Marketing blogs I've been posting. If you haven't been reading my thoughts on publicity,
check some of the posts now
.
I love Godin's comments in the video about his love of books. More importantly, though, his remarks about how to properly use Kickstarter in a "hybrid" business model really hit home for me. I think it's what my gut has known for these past 2 years while I've been struggling to crank out my measly 4 titles under my 3 pen names at the same time as living in poverty working manual labor jobs--literally being a "starving artist." Kickstarter is about
leveraging the tribe
and not about building it. Watch Godin's little speech below. It's worth the 3 minutes of your life.
Remember, you cannot succeed on Kickstarter without a tribe to whom to pitch--and you need to know your own tribe's limits. I firmly believe I have accumulated a tribe of about 100 members--but only a hundred. I don't think 100 True Fans can fund my life for 6-12 months nor do I really believe they
should be asked to try
! I need a larger tribe before I move to the Kickstarter model, so as I've been saying, I need a new day job, a solid/secure place to live where I can crank out another 1-2 books under each of my pen names and
then
I should have enough of a following, a
tribe
, to tap them for support--and get it. I'm not afraid to ask anymore but I'm afraid of dying before I get there.
On that grim but honest note (LOL) I urge everyone reading this to consider downloading and reading at least one eBook this week. It doesn't matter whose it is or even if it's from Smashwords (though I do love Smashwords!) but after you're done reading it, whether you enjoyed it or not, write the author a review. Give back some time and effort. It's the next best thing to money.
Thanks for stopping by!
-sry
@webbiegrrl